My Big Block 1967 Satellite Convertible!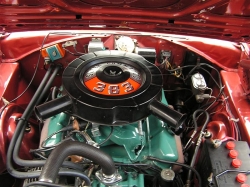 I have the original window sticker, manual and certicard!
It sports the original top (new window)
Original interior except the front seat covers, even has the original carpet!
Original Drivetrain, I also have a 400 engine and extra 727 trans
Upgraded FBO electronic ignition plus I have the original points dist.
Has an Eddy 600 w/Eddy manifold. I also have the original 2bbl carb and manifold and air cleaner
Nice Turbine Bronze Paint but not perfect. Normal nicks ect.
It made the Hotrod Powertour with absolutely no problems!! 2300 miles in 2 weeks!!
I have plenty of paperwork that goes with it including the copy of the punchcard from Chrysler.
Even has the rare recall steering wheel!
I even have the polyglass spare tire, I replaced it with a radial but I kept the bias tire.
Here's the loaded down trunk with all my wife's luggage! LOL!
The rear side panels were cut for speakers but I have an extra set.
No rust on this baby!!






Here's the specs from the fendertag!

RP27=Satellite convertible
61=383-2bbl
5=Auto tranny
435=tire code 43=7.75x14 WW 5=5 tires
B07=Scheduled Production Date of Nov 7th 66
02200=shipping order number
AX=Axle code A/4=3.23 ratio X/8= Sure Grip
P6W=interior trim code=Premium level bucket seats black and white in color
MM1= Turbine Bronze metallic in color
U/B= upper inner door frame painted black
S/B= black accent stripe
R/1=AM radio
X/2=tinted windshield
Y/1=black convertible top
a/5=center front seat with folding arm rest
b/4=bucket seats
g/0=belt line molding
h/7=turn signal indicators on hood
u/1=sold car