Click the images for a larger version!
More to come as I dig through my old pictures and scan them in.
My first car, a Mopar of course!!
Ok, bad pic, it's a 30 year old slide that I scanned in.
It's a 65 Dodge Coronet 4 door w/225
My 67 Satellite w/383 4 speed after someone smacked me!! :-(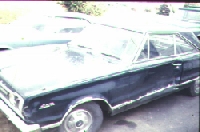 My '73 340 Challenger!!
My '76 360 Aspen R/T (this one is identical!)
My '66 Lemans Convertible!!
Before
During
After
My '86 Fiero!
My '83 Turismo
My '78 Plymouth Arrow Jet (gas crunch era)
My '66 340 T/A motor Barracuda
My '73 Duster (another partial w/my brother)

My '75? Opel Manta (gas crunch era)
My '86 GrandAm

My '95 Dodge Intrepid
My '70 Plymouth 'Cuda
My present 67 Satellite convertible
My newest 83 Dodge Rampage

A couple of my old boats.
My 17' Chris Craft
My 19' Bayliner